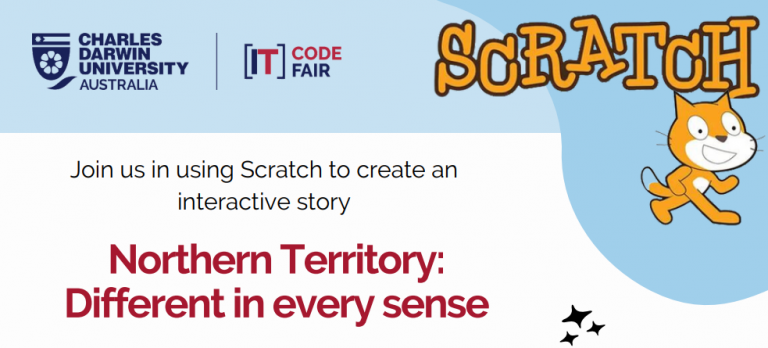 Exclusively for students in middle schools or senior colleges in the Northern Territory.
Design and program a maximum of 2-minute interactive story using Scratch that promotes the unique features and attractions of the Northern Territory while incorporating coding concepts and storytelling techniques. Students will need to provide a final scratch file after they have completed it. You can choose to work as a team or individually.
The winner will be invited to join us at CDU IT Code Fair on Thursday 3rd November 2023, at DoubleTree by the Hilton Hotel at Esplanade.
The prize includes a

$300 gift voucher

and a certificate.
Submission Open: 25/05/2023
Submission Deadline: 22/10/2023
Winner announcement: 31/10/2023
Your project will be judged by 4 criteria as follows:
Idea (25%)

–The concept is well explained, with details on how reasonable, sustainable and scalable the concept is.

Creativity (25%) 

– Exceptionally clever and unique in showing deep understanding and doing things out of the box.

Desirability (25%) 

– Uses information in connection with the argument or purpose of the work, presents it in a highly effective format, and explicates it with consistently high quality.

Video Quality (25%) 

– The viewers are left with a strong understanding of the topic, will remember the video, and feel like they want to learn more.
If you choose to work as a team, teams may not have more than 4 members. Only one submission per student/team.
Turn in your submission by uploading your video and propose your idea through a short video of a maximum of 2 minutes by uploading to Flipgrid at https://flip.com/008bd5f9.
Students can work on submissions at school or home.
Submissions must be turned in by 22/10/2023.