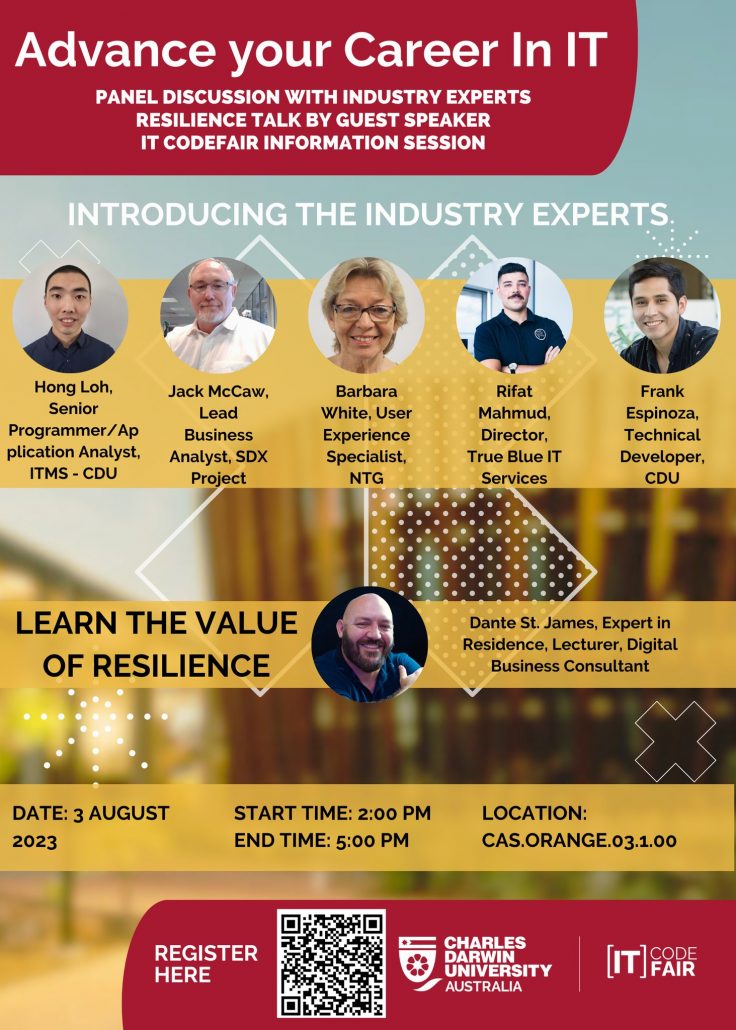 Exciting Announcement! Meet our Distinguished Panel Members and Keynote Speaker for CDU IT CodeFair's 4th Journey Series Session!
Panel Members
Jack McCaw
Lead Business Analyst for CDU's SDX Project
Barbara White
User Experience Specialist with NT Government
Rifat Mahmud
Director of True Blue IT Services
Hong Loh
Senior Programmer/Application Analyst at ITMS-CDU
Frank Espinoza
Technical Developer at CDU
These seasoned professionals from the IT industry have dedicated their precious time to support students on their path to success.
Keynote Speaker: Dante St James
Entrepreneur
Business Advisor
All Casual Lecturer at CDU
All our speakers bring a wealth of knowledge and experience to inspire and guide students in their career journey.
Join us on 3 August 2023, from 2 pm to 5 pm at CAS.ORANGE.03.1.00, and seize this incredible opportunity to learn from our remarkable panel members and keynote speaker. Discover the secrets to resilience and thrive in your IT career!
Date: 3 August 2023
Time: 2:00 pm to 5:00 pm
Location: CAS.ORANGE.03.1.00
Don't miss out on this enlightening session that could shape your future! See you there!